Ginger-Fir Hydrosol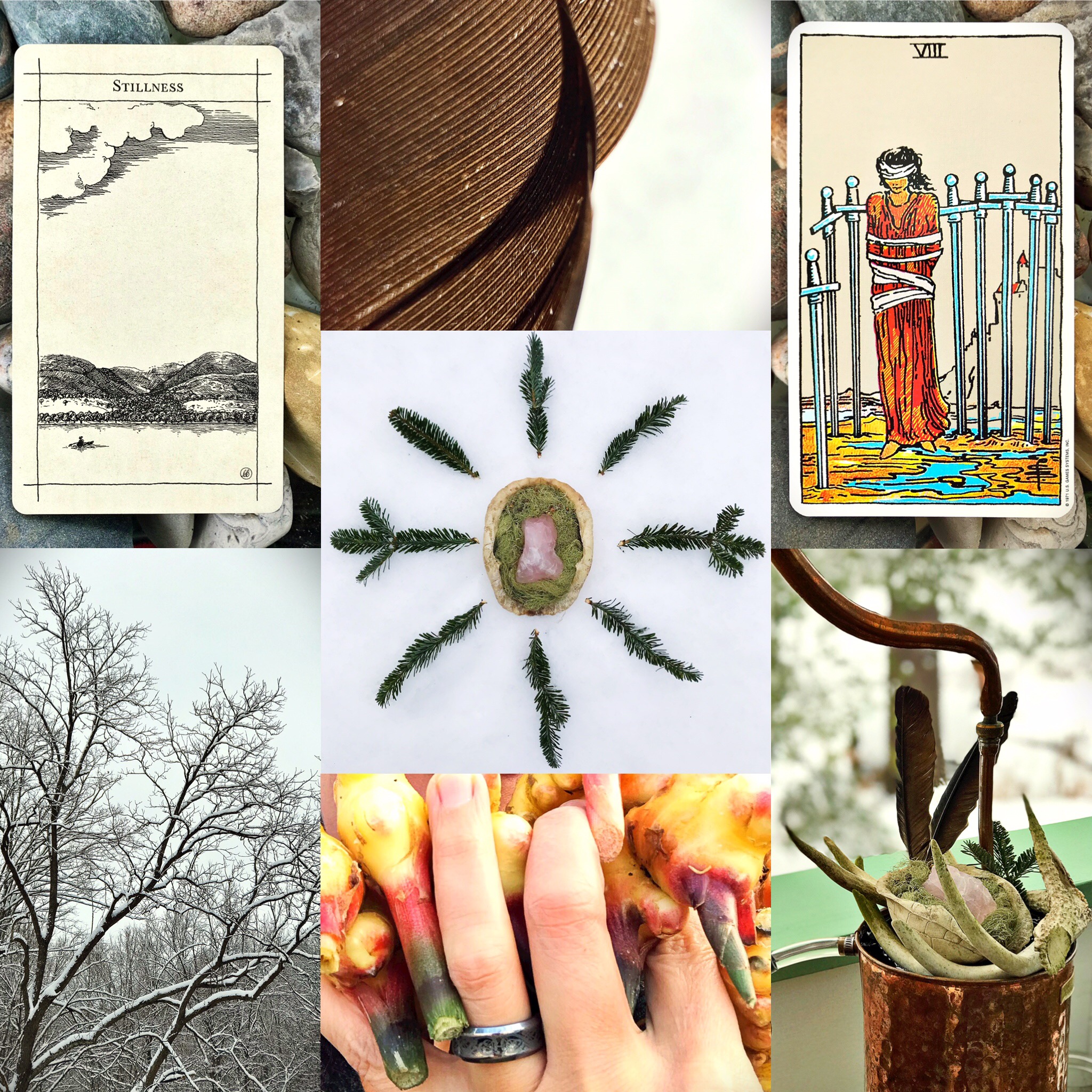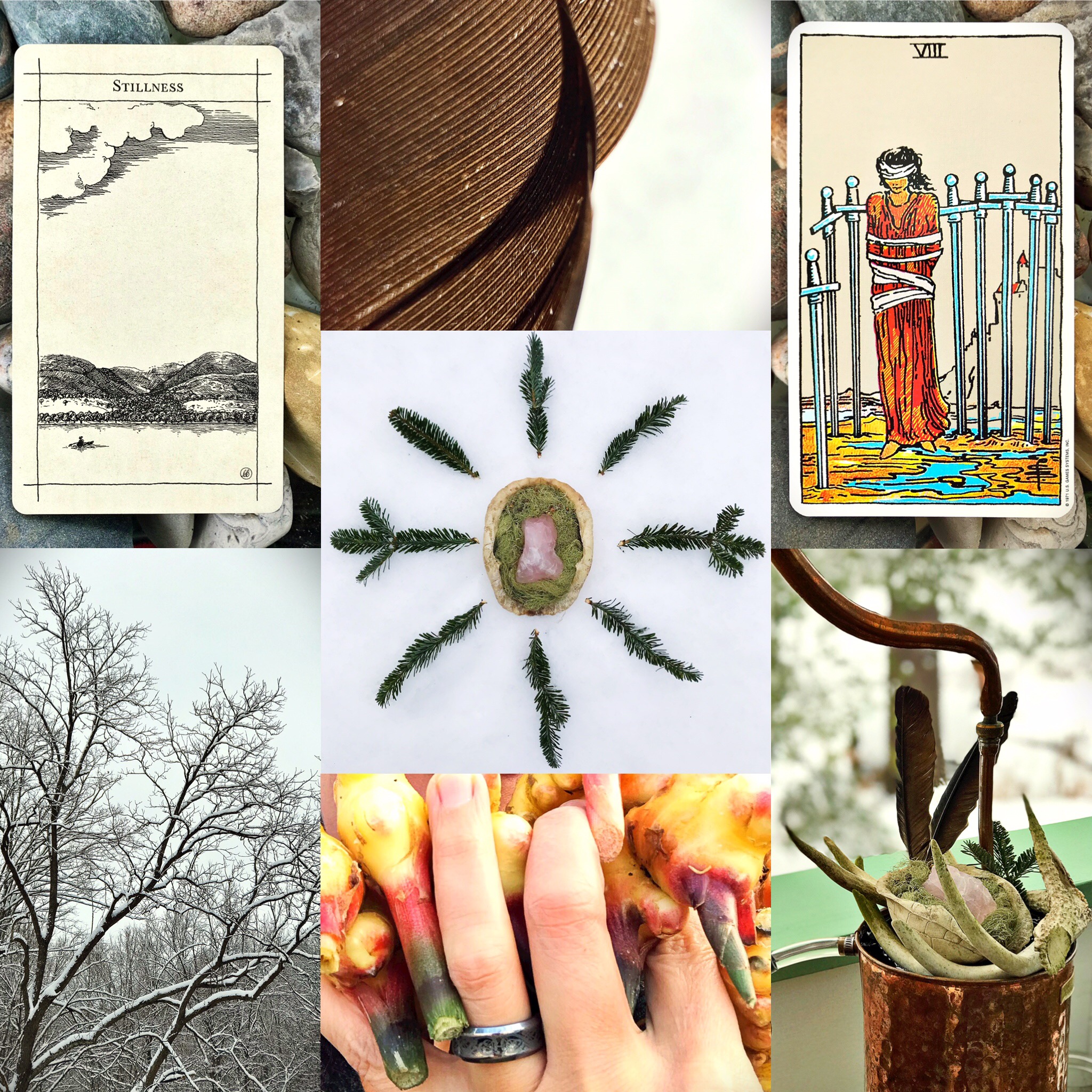 Ginger-Fir Hydrosol
Ginger-Fir (Zingiber officinale; Abies fraseri)
Keywords: unstuck and unbound, freedom of action, germination of sovereignty, self-love as liberation, courage for change, birthing salvation.
Read below for more info!
Pairs well with these flower essences: Obedient Plant (Will), Spotted St. John's Wort (Illumination), Ox Eye Sunflower (Awareness), Blue Eyed Mary (Benevolence), Spikenard (Inhibition), Wild Geranium (Hope) , Catalpa (Courage)
Tarot: Uusi 'Supra' Oracle (non-affiliate link)
The Story of the Ginger-Fir Distillation
Often times we can feel stuck, controlled, censured. Bound and hoodwinked by our circumstances, whether self-inflicted or as a product of another's will, unable to break free from the trammels that bind us. It can be difficult knowing how to begin our liberation, how to pick the lock, and where to find safe haven once we have set ourselves free.
Fresh ginger root with its warmth and pragmatism and Fraser fir with its soft strength come together in this hydrosol to assist you in breaking free from what binds you. The 8 of Swords from the Rider-Waite tarot was pulled, symbolizing the state of being trapped and consequent restriction to one's freedom of action. This card gives life to the chagrin and feelings of defeat experienced at the hand of such oppressive captivity. However, all hope is not lost. Ginger, a medicine of Mars, provides the aromatic support of divine will and the motivation and determination needed for unbinding.
The Stillness card from the Uusi Supra Oracle was also pulled, a reflection of the comfort of stillness, like being snowed in after a snow storm when the world outside is quiet and unmoving. You can hear the beating of your own heart. This card supports the aromatic intent of Fraser fir, a tree of safe haven, providing protection in this stillness as you germinate your own salvation. May the Fraser fir shelter you as you rest and contemplate your next moves.
Rose quartz was incorporated into this distillation as a reminder that we must act from a place of love towards Self, that this alone is a true act of liberation. The Crow was also incorporated as a totem of maintaining faith in the unknown and developing courage for change in preparation of seeing yourself through to the other side. This hydrosol was distilled under a waxing moon in Aries, a constellation whose stars Hamal, Sheratan, and Mesarthim were traditionally used in navigation. They gifted this distillation with the guiding support of sight, for those who are feeling blinded by captivity. The waxing moon illuminated in Aries filled the distillation with awareness of the possibility that our own emotions can often be our true captors.
Each hydrosol comes with a 2 x 3.5 card which displays images that tell the story of that specific distillation as well as keywords that highlight its ceremonial procurement and possible psychic or energetic application. Although these images may seem disjunct, they do indeed tell a tale of a particular moment in time as the lives of the plants being distilled are celebrated and relationships with the plants are being formed. However, we encourage you to explore the symbolism of each hydrosol on your own terms, from your own perspectives.
Ingredients: Steam co-distilled hydrosol of Zingiber officinale and Abies fraseri
For external use only. Spray 1-2 pumps no less than 1 foot from face, step or lean into the mist, and breathe deeply through your nose. Spray 1-2 pumps around work or living space. Not intended for use with children under the age of 12.
Local, sustainable aromatherapy. Artisan hydrosols distilled with intention from plants grown and stewarded in Appalachia.
"Our aromatic hydrosols, just like our flower essences, are preparations that celebrate the healing potential of metaphor, myth, and story. Each distillation captures a moment in time...a specific and intentional attempt to foster a deeper relationship with the plants and with ourselves; it is as if we are given the opportunity to experience the plants' souls, and they ours. In this exchange we become characters in their collective stories and they become characters in our stories...and a healing companionship is born. In addition, I truly believe that when we are able to share in a plant's story, as told through their aroma, we are often able to learn something about ourselves. It is our hope that through our hydrosols we are able to celebrate with others the magic of these exchanges and inspire your own relationship building, both with the plants and with Self." - Erika Galentin, Clinical Herbalist, Distiller, & Co-creator at Sovereignty Herbs