Clary Sage - Hydrosol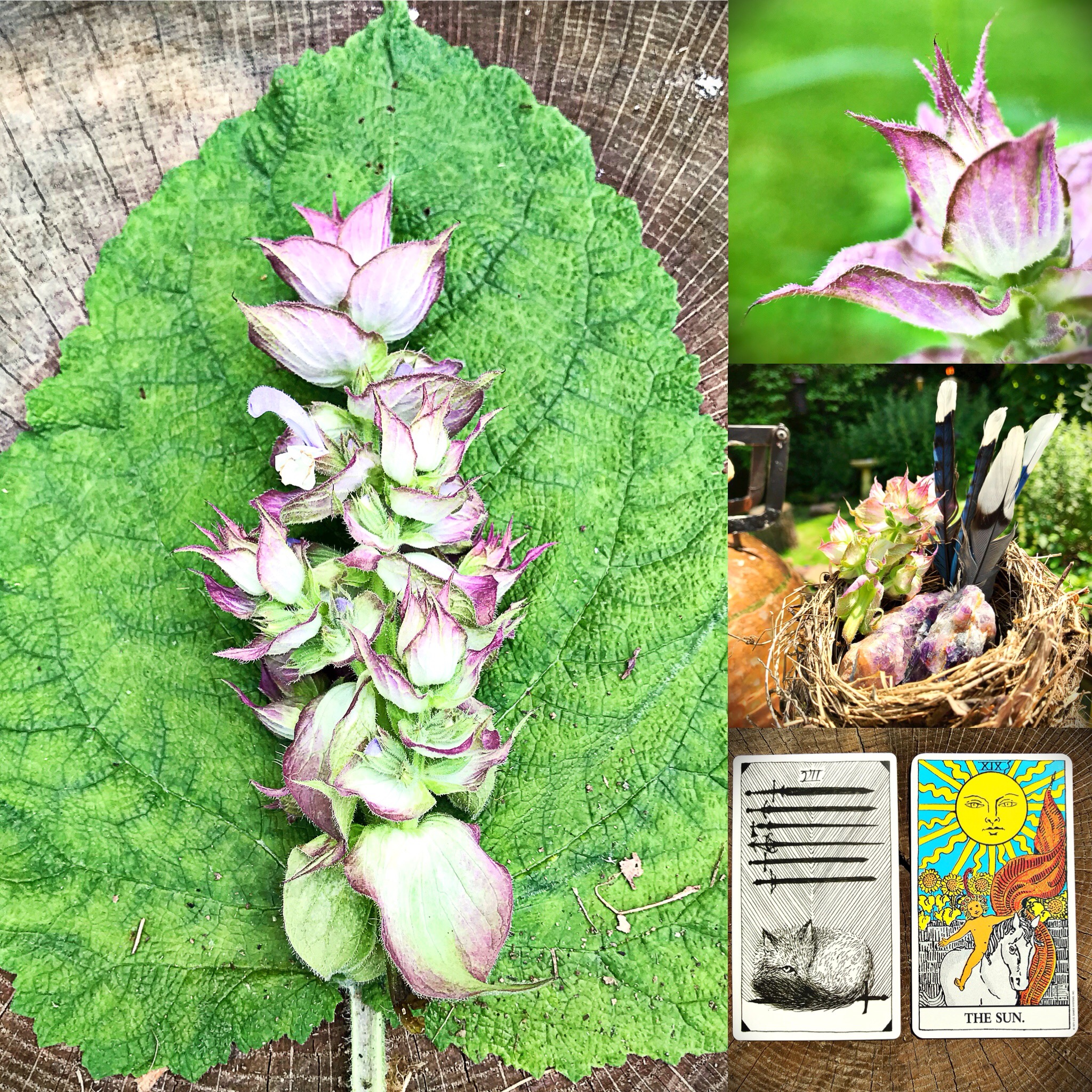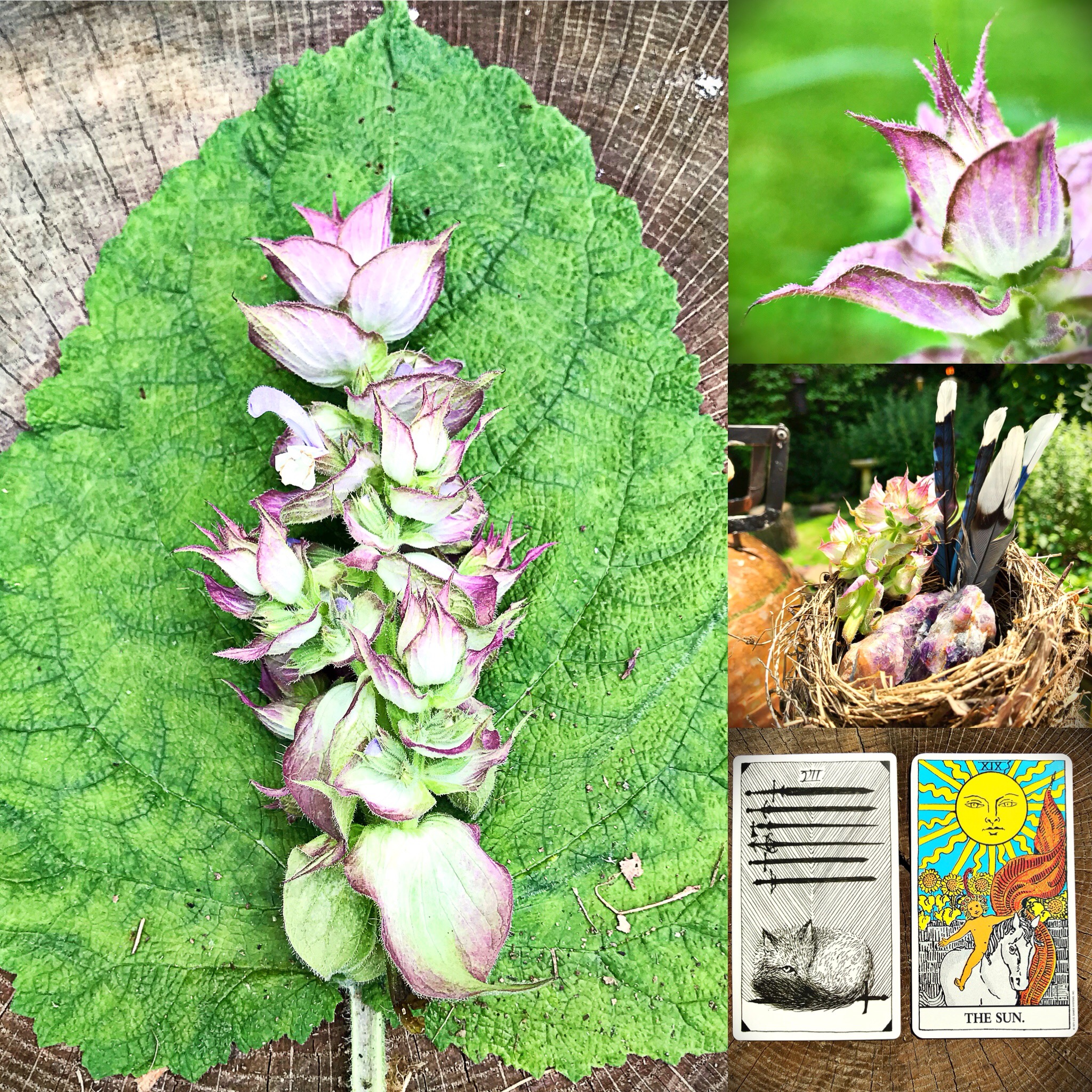 sold out
Clary Sage - Hydrosol
Clary Sage (Salvia sclarea)
Keywords: calm awareness, deep breathing, inner truths, enlightenment, creativity, clarity of voice, self-control.
Read below for more info!
Pairs well with these flower essences: Ox Eye Sunflower (Awareness), Coral Honeysuckle (Creativity), Spotted St. John's Wort (Illumination), Ratibida (Dignity), Jewelweed (Impulsion)
Tarot: The Wild Unknown (non-affiliate link)
The Story of the Clary Sage Distillation
Incorporated into this Clary Sage distillation was Amethyst, a stone that is believed to support both creativity and self-control. Collected blue-jay feathers were placed with the Amethyst in support of clarity of voice. Two tarot cards were pulled, the Seven of Swords in support of revealing hidden truths, and the Sun in support of inner vitality and the enlightenment that comes from exploring the Self. One of the most beautiful aromatic plants being grown in our gardens, Clary Sage provides a deeply relaxing aroma that allows us to pause and bring awareness to our breath. In doing so, this hydrosol can hold space for exploration of our unconscious and the revealing of inner truths.
Each hydrosol comes with a 4 x 6 card which displays images that tell the story of that specific distillation as well as keywords that highlight its ceremonial procurement and possible psychic or energetic application. Although these images may seem disjunct, they do indeed tell a tale of a particular moment in time as the lives of the plants being distilled are celebrated and relationships with the plants are being formed. However, we encourage you to explore the symbolism of each hydrosol on your own terms, from your own perspectives.
Ingredients: Steam distilled hydrosol of Salvia sclarea.
For external use only. Spray 1-2 pumps no less than 1 foot from face, step or lean into the mist, and breathe deeply through your nose. Spray 1-2 pumps around work or living space. Not intended for use with children under the age of 12.
Local, sustainable aromatherapy. Artisan hydrosols distilled with intention from plants grown and stewarded in Appalachia.
"Our aromatic hydrosols, just like our flower essences, are preparations that celebrate the healing potential of metaphor, myth, and story. Each distillation captures a moment in time...a specific and intentional attempt to foster a deeper relationship with the plants and with ourselves; it is as if we are given the opportunity to experience the plants' souls, and they ours. In this exchange we become characters in their collective stories and they become characters in our stories...and a healing companionship is born. In addition, I truly believe that when we are able to share in a plant's story, as told through their aroma, we are often able to learn something about ourselves. It is our hope that through our hydrosols we are able to celebrate with others the magic of these exchanges and inspire your own relationship building, both with the plants and with Self." - Erika Galentin, Clinical Herbalist, Distiller, & Co-creator at Sovereignty Herbs